Weddings bring people together – the couple about to be married, and the community of friends and family that witness and support you. If your special day comes with special circumstances, call us. We'll make it fabulous, together.
Interfaith weddings
You're Jewish, and your intended isn't.  You can't imagine getting married without a chuppah or breaking the glass.  But you don't want anyone to feel left out.  We hear you. We can create a ceremony that honors both of your backgrounds. If you'd like, we can suggest meaningful ways to involve both families in your ceremony.

Equality weddings
We love equality marriages so much, we had one of our own. Whether you're traditional or modern, religious, spiritual, or neither, we've got you covered.
Long-time couples
No strains of "We've Only Just Begun" for you.  We can work together to create a ceremony that celebrates this new chapter in your ongoing story.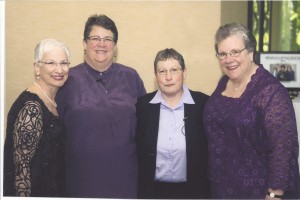 Elopements
Don't want a big deal? That doesn't mean you should have a generic ceremony. We can turn short into short and sweet.
Vow Renewals or Anniversary
You've made it this far and it's still great. Give yourselves and your friends and family the gift of reaffirmation and continued joy.
Our Wedding Fees and Packages
Download our current packages and fees here.